Gifts
Texas Star Pendant w/Denim Lapis Stone BDGIFT1003 $50.00
---
Scarf Slide
Heart w/Stars Scarf Slide 1 1/2" Diam. BDGIFT1004 $40.00
Star w/Scallops Scarf Slide 1 1/2" Diam. BDGIFT1005 $40.00
Star w/Stars Scarf Slide 1 1/2" Diam. BDGIFT1006 $40.00
---

Multi Color Stone Eyeglass Holder BDGIFT1007 $15.00
---
Wine Glass Markers
Which wine glass is yours ?

Can't find your wine glass ?
Help is available with The Wine Watcher stemware jewelry! The savvy party giver can
help party guests keep track of their wine glasses with our distinctive silver stemware jewelry.
Each piece has a unique artistic handcrafted design and slips easily around the stem of a wine glass.

These beautiful wine glass markers make a great gift and are ideal for dinner parties.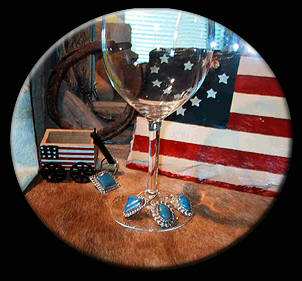 Denim Lapis and Sterling Silver Wine Glass Markers $15.00 each.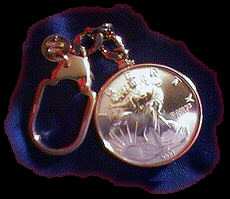 Authentic Dawn of a New Millennium Key Rings
These beautiful Key Rings come with a serial number and certificate.
BDGIFT1001 $50.00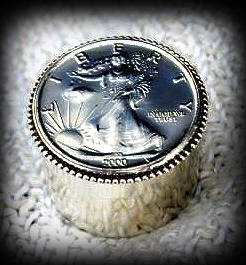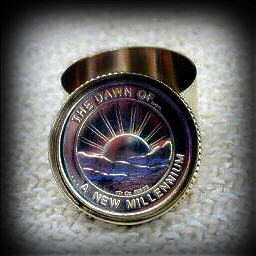 Dawn of a New Millennium

Coin Box

This unique box uses "The Dawn of a New Millennium" silver dollar sized coin. It is solid silver (1 Tr. Oz.) surrounded by a delicately beaded Sterling Silver bezel to form the lid. The top of the lid shows Walking Liberty, in her glory, marching forward into the year 2000, showing strength and pride for her country. The underside of the lid shows a Rising Sun as a symbol of what is to come in the next Millennium. Beautifully hand-crafted of Sterling Silver, this signed and numbered limited edition box is a favorite in the Be-Decked collection.


Authentic Dawn of A New Millennium Keepsake Box with serial number and certificate.

BDGIFT1002 $60.00

BeDecked.com Be-Decked.com DenimJewelry.com JeanJewelry.com CineMasterpieces.com